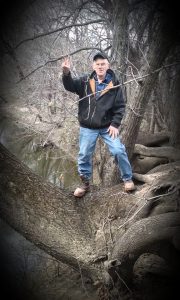 Rickie Lee Bales was born October 16, 1954 in Independence, Missouri and departed this life on January 14, 2019 at his home in Harrisonville, Missouri at the age of 64 years, 2 months and 29 days.
He was the son of Donald Lee and Dorothea A. (Mayabb) Bales.
Rickie spent most of his life in Holden, Missouri, graduating from Holden High School in 1972. Two years ago he moved to Harrisonville, Missouri to make his home.
Rickie worked as an over-the-road truck driver for many years, in recent years, following in the footsteps of his father, Rickie owned a woodworking shop where he created beautiful wooden bowls and other wood products.
Rickie loved the majesty of nature and anything to do with outdoors. He had a gift for bonding with animals of all kinds, especially owls. In his spare time he loved to fish.
Rickie was preceded in death by his father, Donald Lee Bales.
He is survived by two sons, Tyrel Bales and Talon Bales both of Odessa, Missouri; one daughter, Trisha Smith of Holden, Missouri; his mother, Dorothea (Mayabb) Stephens and husband Louis of Harrisonville, Missouri; one brother, Terry Don Bales and wife Judy of Springfield, Missouri; 4 grandchildren, other relatives and many friends.
 Cremation has been accorded. A Celebration of Life Service will be held at 7:00 p.m. Wednesday, January 23, 2019 at the Wallace Funeral Home in Pleasant Hill, Missouri. Inurnment will be at a later date.