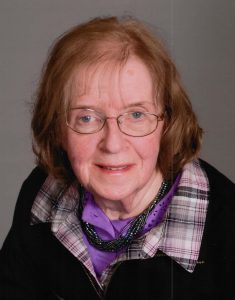 Patricia Ann "Patty" (Sloan) Alexander was born November 13, 1938 in Pleasant Hill, Missouri and departed this life on August 31, 2018 at Lee's Summit Medical Center in Lee's Summit, Missouri, at the age of 79 years, 9 months and 18 days.
She was the daughter of Hubert and Lola M. (Pelsor) Sloan.
Patty was a lifelong resident of Pleasant Hill, graduating from Pleasant Hill High school in 1957.
On January 11, 1958, she was united in marriage with Richard Lee "Bud" Alexander at the First Christian Church of Pleasant Hill.
Patty was a longtime member of the First Christian Church (DOC) of Pleasant Hill, Missouri, and had faithfully served her church as a Deacon, an Elder, and Chairman of the Board. She was also a member of the Christian Women's Fellowship. Patty had a passion and deep desire to help the children and young people of the church and of  Pleasant Hill, this passion lead her to being instrumental in the founding of the "Mother's Day Out" program at Pleasant Hill First Christian Church. Patty was also a member of the Ivy Leaf Chapter of the Order of the Eastern Star of Pleasant Hill and the Pleasant Hill Historical Society.
Patty had worked several places throughout her life including Gerbes Supermarket in Pleasant Hill and the Pleasant Hill Primary Cafeteria. She had also owned and operated a daycare program in her home for many years.
Patty was a loving wife, mother, grandmother and great grandmother who was completely devoted to her family.
She was preceded in death by her husband, Richard L. "Bud" Alexander on August 25, 2015; her father, Hubert Sloan on June 8, 1996; her mother, Lola Sloan on February 27, 2008; her sister, Lorene Cantrell in July of 1969, and her brother Roy F. Sloan on June 11, 2010.
Patty is survived by one son, Richard F. "Rick" Alexander and wife Patti of Pleasant Hill, Missouri; one daughter, LeAnne Marie Fuller of Redondo Beach, California; five grandchildren, Richard Preston Alexander and Nicole Walton, and Kevin Michael Alexander and wife Crystal all of Pleasant Hill, Missouri, Joshua Dean Alexander and Brittany Paarman of Raymore, Missouri, Sawyer Marriott Fuller of Los Angeles, California and Lillian Adele Fuller of Sacramento, California; seven great grandchildren, Fionna Celeste, Richard Felix, Harley Franklin and Hunter Michael Alexander, Sky Ann-Marie, Talis Xavier and Jasmine Serenity Walton.
The family of Patricia A. (Sloan) Alexander will receive friends from 6:30 – 8:30 p.m. Friday, September 7, 2018 at the Wallace Funeral Home in Pleasant Hill. Funeral Services will be held at 10:00 a.m. Saturday, September 8, 2018 at the funeral home with Rev. Kent Deubner and Rev. Carla Deubner officiating. Casketbearers will be Richard Preston Alexander, Kevin Michael Alexander, Joshua Dean Alexander, Sawyer Marriott Fuller, Lillian Adele Fuller and Talis Xavier Walton. Interment will be in the Sloan Cemetery.
Contributions are suggested to the First Christian Church (DOC) of Pleasant Hill, Missouri.