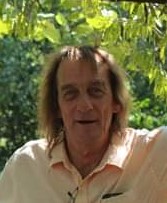 Nathaniel "Carl" Nannen was born January 7, 1952 in Lincoln, Illinois and departed this life on October 6, 2020 at St. Luke's Hospice House in Kansas City, Missouri, at the age of 68 years, 8 months and 30 days.
He was the son of Carl Nathaniel and Edna (Sanderson) Nannen.
Carl was the first child in his family to be born in a hospital. It was a Catholic hospital, and the nurses in the maternity ward nicknamed him "Butch" because of his hair.
In 1953, Carl's father lost the family farm and the family began to move from town-to-town and state-to-state while his Dad worked as a sharecropper in Illinois, Kansas and Missouri. Carl attended numerous schools in Kansas and Missouri. He went to grade school in Hallsville, Missouri for 2 years, then attended 6th through 8th grades in Louisburg, Kansas.
Carl's mother, Edna Nannen, passed away when Carl was 16 years old and he went to live with his sister Laurie in California. He got a job in California and worked for awhile before moving back to the Kansas City area, with his dad, and getting an apartment in the Hickman Mills area.
In 1978, Carl went to work for Mr. Tire in Kansas City, Missouri where he worked for 38 years, retiring in 2014.
On June 27, 1981, Carl was united in marriage with Karen Franse in Cleveland, Missouri. After their marriage Carl and Karen made their home in Cleveland.  Carl and Karen were married for 38 years before Karen's death from cancer on August 13, 2017. After Karen's death, Carl continued to make his home in Cleveland.
Carl and Karen worked hard and were very dedicated to the community of Cleveland, Missouri. Carl was an active member of Lions Club International for over 20 years. While a member of the Lions Club, Carl held several positions including District Governor and President. For over 20 years he was a member of Western Cass Fire Department and had been a Director and Past President of the Board. He also had been a member of the Cleveland Planning and Zoning Board and worked with Habitat for Humanity.
Carl attended the First Baptist Church of Cleveland, Missouri and joined the church choir. While a member of the choir, he traveled with them to sing at the "Grand Ole Opry" in Nashville, Tennessee, and performed the National Anthem with them at a Kansas City Royals game.
Carl was preceded in death by his wife, Karen Nannen; his parents, Carl Nathaniel and Edna Nannen; one daughter, Toye Click; two brothers, Bobby and Marion Nannen and one sister, Laurie Frances Sanders.
He is survived by one son, Derek Hunter of Cleveland, Missouri; one brother, Jerry Nannen of Lincoln, Illinois; one sister, Rosemary Larkins of Seattle, Washington; nieces, Sherry Larkins of Seattle, Washington and Carla Wright of Hallsville, Missouri. 6 Granddaughters; 13 Great-Grandchildren, and one "on the way"; other relatives, many, many friends and numerous "extended grandchildren" that called Carl and Karen, Papa and Meema.
Cremation has been accorded. The family of Carl Nannen will host a Celebration of Life Service at a later date.
Cremation Arrangements entrusted to the Wallace Funeral Home.