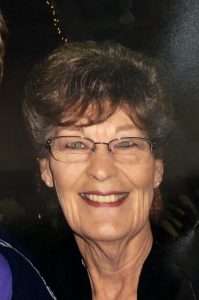 Nancy Michael was born September 21, 1943 in Pleasant Hill, Missouri and departed this life on January 10, 2019 at her home in Pleasant Hill, surrounded by the love of her family, at the age of 75 years, 3 months and 20 days.
She was the daughter of Kenneth Louis and Tommie Juanita (Wass) Hand.
Nancy spent most of her life in Pleasant Hill and attended Pleasant Hill Schools.
On March 20, 1970, Nancy was united in marriage with Richard Tilman "Dick" Michael in Miami, Oklahoma and they made their home in Pleasant Hill.
In her early years, Nancy worked as manager/waitress at the Greenhorn Restaurant in Pleasant Hill. After her marriage, she became the office manager for Michael's Basement Company, the family owned business. She served in this capacity until her retirement in 2008.
In her spare time, Nancy loved to knit, crochet, make ceramics, and most of all, quilt. She was a member of the International Machine Quilters Association, Inc. Nancy was also a very active member of the Red Hot Mamas Chapter of the Red Hat Society of Pleasant Hill.
Nancy was preceded in death by her husband, Richard T. "Dick" Michael on June 25, 2012; her father, Kenneth Louis Hand on March 11, 1986; her mother, Tommie Juanita Hand on September 23, 2003, and two infant siblings.
She is survived by three sons, Scott Lees and wife Angie, Rusty Lees and wife Frankie, Brent Michael and wife Jan; one step-daughter, Karen Wilmoth and husband Ben; one step-son, John Michael and wife Julie, all of Pleasant Hill; two sisters, Joyce Mayabb and husband Jim of Pleasant Hill and Carol Neilson of Harrison, Arkansas; 13 grandchildren, Heather Lees Ayer and husband Janson, Michael Lees, Spencer Lees, Baileyann Lees, Brandon Lees and wife Gracyn, Devin Lees, Justin Michael, Nate Michael, Payton Michael, Amy Cook, Amanda Eagan and husband Bill, Ben Wilmoth and wife Stacey, and Breanne Kloiber; 12 great grandchildren, Owen, Katelyn, Jake and Norie Ayer, Ziva Lees, Kinzley Lees, Emily Cook, Hunter and Kaylee Wilmoth, Houston, Megan and Samantha Eagan, other relatives and many, many friends.
Funeral Service for Nancy Grace (Hand) Michael will be held at 3:00 p.m. Tuesday, January 15, 2019 at the Wallace Funeral Home with Rev. Kent Deubner officiating. Casket Bearers will be Michael Lees, Brandon Lees, Janson Ayer, Justin Michael, Devin Lees, Nate Michael, Spencer Lees and Ben Wilmoth. Burial will be in the Pleasant Hill Cemetery. The family will receive friends from 1:00 – 3:00 p.m. on Tuesday, January 15, 2019, at the funeral home. The family suggests contributions to Pleasant Hill Meals On Wheels.