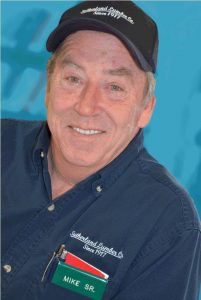 Mike Hawkins departed this world on March 17, 2018 at 7:16 a.m., after a short yet very brave and determined battle with cancer. Mike passed away at his home surrounded by family. Many would say that if a smile could light up a room, Mike had it, and if it needed to be built, Mike could tell you how to build it.
Mike was born July 10, 1956 in Los Banos, California to mother, Emma Louise (Larman) Hawkins and father, Connie Lee Hawkins. He spent the majority of his young life in Oklahoma where he was a jack-of-all-trades from working in oil fields to being a hog farmer. Mike met his current wife, Theresa, in Kansas City, Missouri in 1985. They resided in Cleveland, Missouri from the beginning of their marriage until the present.
Mike was not afraid of hard work and if somebody needed help, he would be there to help them, no questions asked. There are many places in the Cass County area where you can look and see a little piece of Mike due to his building expertise. Most anybody that has shopped at Sutherlands in Harrisonville, Missouri can attest to Mike's knowledge in lumber and architectural skills.
Some interesting things about Mike: at the age of 40 he picked up the art of "pickin" at the banjo, as he would put it, and enjoyed the song "Dueling Banjos", he loved BBQ'ing and smoking meat, he also enjoyed woodworking and fishing.
Mike leaves behind his loving wife, Theresa Hawkins of the home; two sisters, Donna Hendrix of Dos Palos, California and Hurshella (Shelly) Faye Jones of Noble, Oklahoma; one son, Michael Eugene Hawkins, II, and wife Jessica of Cleveland, Missouri; three daughters, Miranda Jo Bowens of Las Vegas, Nevada, Mary Louise Martin and husband Chris of Peculiar, Missouri and Johnna Lee Hawkins of Cleveland, Missouri; grandchildren, Anthony, Mikayla, Skylar, Sadie, Justus, Jace, Lynkoln and Jozlinn.
Cremation has been accorded. The family will receive friends from 4 – 6:30 p.m. Thursday, March 22, 2018 at the First Baptist Church of Cleveland, Missouri. A Memorial Service will follow at 6:30 p.m. with Brother Henry Green officiating.