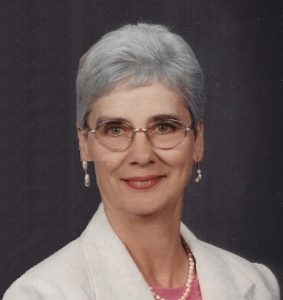 Mary Alice (Jurgensmeyer) Grimm was born December 15, 1934 in Montrose, Missouri and departed this life on January 8, 2018 at her home in Pleasant Hill, Missouri, surrounded by the love of her family, at the age of 83 years and 24 days.
She was the daughter of John and Agatha (Walther) Jurgensmeyer.
Mary Alice spent her younger years in Montrose, MO. She was a 1952 graduate of St. Francis Academy in Nevada, Missouri. On September 3, 1955 Mary Alice was united in marriage with John Anthony Grimm in Montrose. In conjunction with John's work in the aircraft business, Mary Alice and John made their home in several places during the early years of their marriage, including Marietta Georgia, Wichita Kansas, Neosho and Raytown Missouri. In 1970 the Grimm family moved to Pleasant Hill to make their home.
Mary Alice was a devoted and loving wife, mother and grandmother. She liked gardening and thoroughly enjoyed "the fruits of her labor." Mary Alice was an accomplished seamstress and quilter, and liked anything to do with antiques. She and John enjoyed traveling, and wintering in Arizona.
Mary Alice was an active member of St. Bridget Catholic Church where she was a member and past president of the Alter and Rosary Society. She also was a Lector and a Eucharist Minister. Mary Alice was a member of the Pleasant Hill Piecemakers Quilting Club.
Mary Alice was preceded in death by her husband, John Anthony Grimm on August 8, 2015; her parents, John and Agatha Jurgensmeyer, and her oldest brother, Alvin Jurgensmeyer.
She is survived by two sons, Michael Grimm and wife Sharon of Loveland, Colorado, and David Grimm of Pleasant Hill, Missouri; four daughters, Karen Stigura of Milner, Georgia, Teresa Schaefer and husband Jim, and Nancy Bouchard and husband Rick all of Pleasant Hill, Missouri, and Beth Willis and husband Brad of Greentown, Indiana; two brothers, Willard Jurgensmeyer of Lee's Summit, Missouri and Roger Jurgensmeyer of Greenwood, Missouri; 16 grandchildren, 10 great-grandchildren, other relatives and many, many friends.
Mass of Christian Burial will be at 10:00 a.m. Monday, January 15, 2018 at St. Bridget Catholic Church in Pleasant Hill, Missouri, with Monsignor Robert Murphy officiating. Casket Bearers will be Tony Wood, Nicholas Stigura, Phillip Stigura, Gregory Stigura, Jonathan Grimm, Nathaniel Grimm, Jacob Schaefer, Thomas Schaefer, Joe Bouchard and Adam Willis. Interment will be in the Pleasant Hill Cemetery.
Rosary Recitation will be held at 4:30 p.m. Sunday, January 14, 2018 with the family receiving friends immediately following from 5:00 – 7:30 p.m. all at the Wallace Funeral Home in Pleasant Hill, Missouri.
In memory of Mary Alice Grimm, the family suggests contributions to St. Bridget Catholic Church.