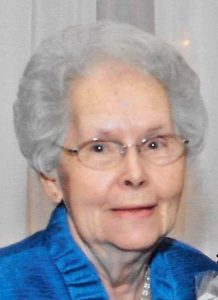 Marjorie Grace (Stayton) Coleman was born August 3, 1927 in Blue Springs, Missouri and departed this life on August 13, 2018 at Foxwood Springs Living Center in Raymore, Missouri at the age of 91 years and 10 days.
She was the daughter of Hugh C. and Gladys Marie (Hugill) Stayton.
Marjorie lived in Blue Springs until 1937 when her family moved to the Pleasant Hill area to make their home. Marjorie graduated from Pleasant Hill High School in 1945. After graduation she moved to Kansas City for two years and worked for the Kansas City V.F.W.
On April 6, 1947, Marjorie was united in marriage with Harley Coleman in Kansas City, Missouri. After their marriage, they made their home in Peculiar, Missouri.
Marjorie was very involved in the endeavors of her children. She became a 4-H leader for the Raymore 4-H Club and was a member of the Extension Homemaker Club of Cass County. Marjorie served on both the Cass County Extension Council and the 4-H Council. She was also a well know chaperone for Pleasant Hill's "Teen Town" for several years.
Marjorie was a long time member of the Coleman Baptist Church. She also had served as secretary for P.W.S.D #6 for many years.
She was preceded in death by her husband, Harley Coleman; her parents, Hugh and Gladys Stayton; one brother, Ernest Stayton and one sister, Edna Riggs.
Marjorie is survived by two sons, Glenn Edward Coleman and wife Katie of Peculiar, Missouri, and Hughie Byron Coleman  and wife Marilyn of Blue Springs, Missouri; two daughters, Marjorie Lee Poznick and husband Carl of Olathe, Kansas, and Nancy Coleman of Richmond, Missouri; four grandchildren, Scott Kimzey and wife Seana of Lawrence, Kansas, Kristi Coukoulis and husband Jay of Olathe, Kansas, Jeffrey Coleman of Peculiar, Missouri and Sarah Spilman and husband Matt of Kingsville, Missouri; seven great grandchildren, Marina, A.J., Colton, Cami, Evi, Luke and Caiden.
Cremation has been accorded. The family of Marjorie Coleman will receive friends 6-8:00 p.m. Monday, August 20, 2018 at the Wallace Funeral Home in Pleasant Hill, Missouri. A Memorial Service will be held at 10:00 am. Tuesday, August 21, 2018, at the Wallace Funeral Home with Chaplain Larry Bowden officiating. Music will be provided by Maggie Rogers.  Pallbearers will be Marty Riggs, Garry Riggs, Larry Riggs, Jimmy Riggs, Robert Stayton and Mark Stayton. In Memory of Marjorie, the family suggests contributions to Missouri 4-H Foundation, 109 Whitten Hall, Columbia, Missouri 65211