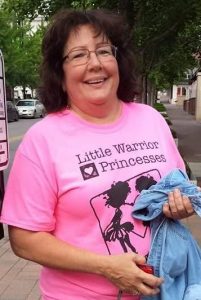 Lorie Ann Lankford, daughter of Luther "Buster" Gene Saling and Judith Ann Martin was born November 30, 1959 in Kansas City, Missouri. She departed this life on Saturday, February 8, 2020, at her home. Lorie attended public school in Pleasant Hill, Missouri, graduating from Pleasant Hill High School in 1978. In 2013, Lorie retired from Respironics located in Murraysville, Pennsylvania, where she worked as a Material Handler.
Lorie was an avid gardener who enjoyed raising chickens, fixing baked goods, listening to rock music and rooting for the Kansas City Chiefs. She adored her two cats, Roxy and Kelly and her dog Frankie, who never left her side. But she was happiest when spending time with her three granddaughters.
Lorie is survived by her three sons, Brandon Dickerson, his wife Cassandra, Robert "Bob" Denney and Steven Huffman; her granddaughters Ava, Olivia, and Skylar Dickerson; her three brothers Michael Saling, Jerry Saling, his wife Regina, Terry Saling and a multitude of extended family and friends. She is preceded in death by her parents and grandparents, and will be deeply missed by all those who knew and loved her.
Cremation has been accorded.
The family of Lorie Ann (Saling) Lankford will receive friends from 9:00 – 10:00 a.m. Monday, February 17, 2020 at the Wallace Funeral Home in Pleasant Hill, Missouri. A Celebration of Life Service will immediately follow at 10:00 a.m. with Pastor Gary Kendall and Rev. Charles Cofield officiating.