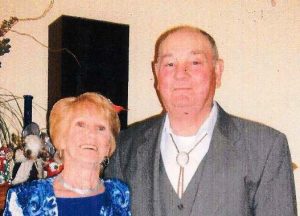 Linda Lee (Hedger) Althouse-Judd was born February 4, 1942 in Bates County, Missouri and departed this life on March 25, 2018 at Kansas City Hospice House, surrounded by the love of her family, at the age of 76 years, 1 month and 21 days.
She was the daughter of John Thomas Woodrow and Vera Margaret (Davidson) Hedger.
Linda spent her younger years and attended school in Drexel, Missouri. On June 14, 1958, she was united in marriage with William Howard Mathews and to this union two children, Janet and Billy were born. The Mathews family lived in Drexel for several years before moving to Overland Park, Kansas. This marriage later ended in divorce.
In August of 1992, Linda married Larry Althouse and they made their home in Kansas City, Kansas. Mr. Althouse passed away on February 18, 1999 and Linda continued to live in Kansas City, Kansas until 2001 when she moved to Peculiar, Missouri to make her home.
On January 5, 2013 Linda was united in marriage with Stanley Judd in Peculiar, Missouri and they continued to live in Peculiar after their marriage. After her marriage to Stanley, Linda faithfully attended the First Presbyterian Church in Pleasant Hill.
Linda worked as a beautician for J. C. Penneys Hair Salon for over 34 years.
Linda enjoyed gardening, flowers, cooking, baking (and was known by many as "The Snickerdoodle Lady"), but the joy of her life were her grandchildren and great grandchildren. She dearly loved to take them to the pond to feed and watch the fish.
 Linda was preceded in death by her parents, Woodrow and Vera Hedger and her sister Barbara Ephland.
She is survived by her husband Stanley Judd of the home; one son Billy Mathews and wife Teresa of Cleveland, Missouri; one daughter Janet Eaton and husband Raymond of Philadelphia, Pennsylvania; 5 grandchildren, 9 great grandchildren, other relatives and many, many friends.
Funeral Service for Linda Althouse-Judd will be held at 2:00 p.m. Saturday, March 31, 2018 at the Wallace Funeral Home in Pleasant Hill, with Rev. Kent Deubner officiating. The family will receive friends from 1:00 p.m. until service time at 2:00 p.m. at the funeral home. Cremation will be accorded following service. In Memory of Linda Althouse-Judd, the family suggests contributions to the First Presbyterian Church of Pleasant Hill,Missouri,