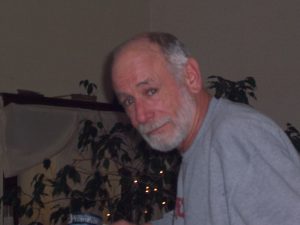 Larry Robert Peirce was born February 12, 1948 in Tacoma, Washington and departed this life on December 24, 2019 at his home in Pleasant Hill, Missouri, surrounded by the love of his family, at the age of 71 years, 10 months and 12 days.
He was the son of Harley Hiram and Wynona Marie (Copeland) Peirce.
The Peirce family moved to Archie, Missouri in 1951. Larry grew up on a ranch in the Archie area and graduated from Archie High School in 1967. After graduation he went to barber school in Kansas City, Missouri.
In 1968, Larry joined the United States Marine Corp and proudly served his country during the Vietnam War. Larry sustained devastating injuries during his service time in Vietnam and was awarded a Purple Heart. Because of his injuries, he was granted a permanent retirement from the Marine Corp. After his retirement from the Marine Corp, Larry returned to Archie, Missouri.  He then moved to the Kansas City, Missouri metropolitan area where he worked in a variety of occupations; including security and law enforcement, engine repair, landscaping and building construction.
On August 3, 1991, Larry was united in marriage with Wendy Magill in Lee's Summit, Missouri. Larry and Wendy lived in Lee's Summit until 1993 when they moved to Pleasant Hill, Missouri to make their home.
Larry retired from the Missouri Department of Transportation in 2010 where he held a position in Facilities and Grounds Equipment Management. After his retirement he opened a small engine and lawnmower repair shop which he operated until declining health forced him to close his shop.
Larry was a consummate drummer in both rock and country; and was a member of the Second Chance Band. Larry also played with various other artists throughout the area.
Larry was preceded in death by his father, Harley H. Peirce; his mother, Wynona Marie (Copeland) Peirce-McDonnell; his stepfather, J. H. McDonnell, and one niece Mindy McDonnell.
He is survived by his wife Wendy (Magill) Peirce of the home; three sons, Russell Peirce and wife Amanda of Blue Springs, Missouri, Joseph Altschul and wife Bing of Kansas City, Missouri, and Benjamin Altschul  and wife Judy of Independence, Missouri; two daughters, Misty Rooks and husband Toby of Belton, Missouri, and Heidi Peirce of Raytown, Missouri; four brothers, Jim Peirce of Main City, Missouri, Dale Peirce and wife Barbara of Amarillo, Texas, Jim McDonnell and wife Nancy, and Dean McDonnell, and wife Randy all of Archie, Missouri; two sisters, Trisha Barnhard and husband Dennis of Raymore, Missouri, and Merrilee Honaker and husband Larry of Archie, Missouri; eight grandchildren, one great grandson, many nieces, nephews, great nieces, great nephews, aunts, uncles, cousins, other relatives and a multitude of friends.
Per Larry's wishes, cremation has been accorded. No services are scheduled at this time.