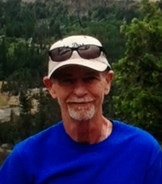 Johnny Wayne Ayers, Sr. was born July 9, 1951 in St. Joseph, Missouri and departed this life, surrounded by the love of his family, on October 4, 2017 at Mercy Hospital Springfield, Springfield, Missouri at the age of 66 years, 2 months and 27 days.
He was the son of James Renzo and Mary Maxine (Basham) Ayers.
During his younger years, Johnny's family lived in several places, eventually returning to the Kansas City area. He started working at a young age, doing everything from hay baling to selling fishing worms to help his family. As an adult, Johnny started his own business named "The Real Deal Appliance Store", which eventually grew to three locations in Independence, Missouri, Olathe, Kansas and Belton, Missouri.
On July 2, 2015, Johnny was united in marriage with his long time companion, Kimberly Ann Holliday in Sturgis, South Dakota. After their marriage they lived in Oak Grove, Missouri for a short time until the home they built together in Bates City, Missouri was finished. They lived in Bates City until Johnny retired, then they moved to Hermitage to "enjoy their retirement".
Johnny enjoyed golfing, riding his "Trike" motorcycle and NASCAR racing with Jeff Gordon being his favorite driver.
Johnny was preceded in death by his parents, James and Mary Ayers and one sister, Ada Howard.
He is survived by his wife Kimberly Ayers of the home; two sons, Jay Kenneth Ayers and wife Crystal of Raymore, Missouri, and Johnny Wayne Ayers, Jr. of La Cygne, Kansas; Two daughters, Molly Ayers-Parker and husband Tim of Kansas City, Missouri, and Brittany Rohr of Maryville, Missouri; Five brothers, James Ayers of Gladstone, Missouri, Cecil Ayers and wife Linda of Springfield, Missouri, Robert Ayers and wife Rosalea of Cortez, Colorado, Dennis Ayers of Gladstone, Missouri and Danny Ayers and wife Linda of Olathe, Kansas; One sister, Linda Russell of Omega, Kansas; Thirteen grandchildren, Two great grandchildren, other relatives and many, many friends.
Cremation has been accorded.
A Memorial Service in memory of Johnny Wayne Ayers will be held at 12 noon, Saturday, October 21, 2017 at the Wallace Funeral Home in Pleasant Hill, Missouri.
Family will receive friends immediately following the Memorial Service at the funeral home, until 2:00 p.m.