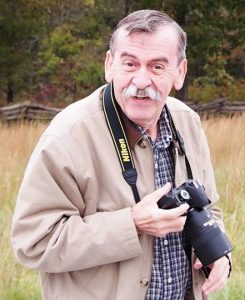 John W. Rook was born August 20, 1948 in Butler, Missouri and departed this life on June 1, 2019 at Village House Hospice in Lee's Summit, Missouri at the age of 70 years, 9 months and 12 days.
He was the son of Leslie Eugene and Goldie Ann (Sloan) Rook.
John's younger years were spent on a farm in Peculiar, Missouri. In 1959, the Rook family moved to Pleasant Hill, Missouri to make their home. John attended school in Pleasant Hill and graduated from Pleasant Hill High School in 1966. After graduation, John attended CMSU where he majored in art. After college, he traveled the country before settling into his career as an accomplished ink technician. John retired from Polytainers, Inc in 2014 with 20 years of service.
John enjoyed spending time with his long-time companion, Kay. They loved to go on day trips, try new restaurants, find good coffee, take pictures and just spend time together. He also cherished spending time with his grandson, Mason, especially their annual trips to Planet Comicon.
John was preceded in death by his parents, Leslie and Goldie Rook.
John is survived by his daughter, Anna Good of Lee's Summit, Missouri; his long-time companion, Kay Crayton of Kansas City, Missouri; one step-son, Rick Luce of Kansas City, Kansas; one step-daughter, Melissa Hausback and husband Ryan of Lansing, Kansas; two sisters, Jean Ann Young of Pleasant Hill, Missouri, and Carol S. Jones of Greenwood, Missouri; one grandson, Mason Good; four step-grandchildren; three step great-grandchildren, other relatives and many friends.
As John wished, cremation has been accorded. The family of John W. Rook will host a Celebration of Life at a later date.
Cremation arrangements entrusted to Wallace Funeral Home.