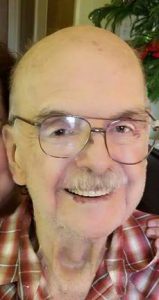 John R. Baker was born October 7, 1935 in Inglewood, California and departed this life on January 24, 2018 at the Pleasant Hill Health and Rehabilitation Center in Pleasant Hill, Missouri, at the age of 82 years, 3 months and 17 days.
He was the son of Robert L. and Marguerite (Butske) Baker.
While still an infant, John's family moved to Garberville, California and lived in a log cabin that John's father, Robert, had built. In 1946 the Baker family moved to Warrensburg, Missouri where John attended College High School, then, in 1951 the family moved to Independence, Missouri. John was a 1953 graduate of William Chrisman High School. In 1954, at the age of 19, John joined the National Guard, and in April of 1955 he joined the United States Navy and proudly served his Country. John served aboard several submarines during his naval career, including the Henry Clay, and spent time in Kobe, Japan, China, Guam, Cuba, Okinawa, Korea, Bermuda, Jamaica, Haiti, Spain and Puerto Rico on tours of duty.
On October 19, 1957 John was united in marriage with Dorothy Kraus, a young woman he had met on a blind date in 1955, while in boot camp, in the Chicago area. After their marriage, they made their first home in Long Beach, California where John was stationed. Their first two children, Linda and Kenny, were born in Vallejo, California during this time. John's next assignment was in Charleston, South Carolina, where their son Ricky was born. After leaving South Carolina, the Baker family was stationed in Idaho Falls, Idaho where their daughter Deb was born, and their last assignment, before John retired, was in Virginia Beach, Virginia. After John's honorable discharge from the Navy on October 28, 1964, the Baker family moved to Independence, Missouri and their two youngest daughters, Teresa and Susan were born. Five years later, the Baker family moved to Cowgill, Missouri where they remained until 1974 when they moved to the St. Petersburg, Florida area. In 1986, the Baker's moved back to the Independence area to make their home. In May of 2017, with both John and Dorothy's health declining, they moved to the Pleasant Hill Health and Rehabilitation Center in Pleasant Hill, Missouri.
After John's retirement from the Navy he worked as a mechanic for several engine repair businesses.
John was baptized at the age of 10, in the RLDS church, and in October of 1984, he was ordained a Priest. After moving to Independence, John became an Elder in the Restoration Branch of the RLDS Church. He also served as an organist and his wife Dorothy would accompany him on the piano.
John was preceded in death by his parents, Robert and Marguerite Baker; one son, Kenneth Baker; three brothers, Mark, Bob and Daryl Baker and one sister, Marguerite Solomon.
He is survived by his wife Dorothy (Kraus) Baker of the home; one son, Rick Baker and wife Kellie of Leeton, Missouri; four daughters, Linda Ilgenfritz and husband Tom of Leeton, Missouri, Debra Bradley and husband Gary of Sarasota, Florida, Teresa Rathbun and husband Thad of Zachary, Louisiana and Susan Baker of Pinellas Park, Florida; one brother, Walter Baker of Independence, Missouri; five grandchildren, Danny Ilgenfritz, Taylor Burford, Dana Browder, Justin Baker and Jessica Law; three great grandchildren, Abbey and Madlynn Browder and Emmaleigh Ilgenfritz.
Cremation has been accorded and no services are scheduled.