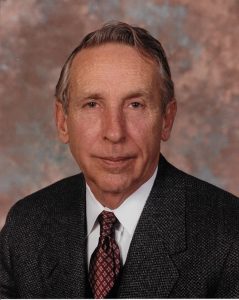 John Wayne "Jack" Welborn was born September 8, 1928 in Harrisonville, Missouri and departed this life from cancer on January 29, 2016 at his home in Loch Lloyd, MO., surrounded by the love of his family, at the age of 87. He was the son of John Emsley and Edna Pearl (Fields) Welborn.
Jack attended school in Raymore, MO, Baytown TX and Nevada, MO. He also attended Finley Engineering in Kansas City, MO.
Jack worked for Foster Wheeler Corp. in Saudi Arabia for 2 1/2 years and also built refineries in Iran. Upon his return to the U.S. Jack became a member of I.B.E.W. Local #124. On May 30, 1951 Jack was united in marriage with Carol Decker in Harrisonville, MO and to this union two children were born.
Jack proudly served his country in both the U.S. Merchant Marines during WWII and the United States Army in Korea. After his honorable discharge from the military in 1955, Jack went to work for Great Northern Electric where he worked his way up through the ranks to become Superintendent, and finally as Shop Superintendent for 18 years before starting his own Company. In 1972, Jack and M. R. "Red" Windham began Electrical Corporation of America (ECA) in Kansas City, Missouri.
In 1973 Jack became a member of National Electric Contractors of America and within 4 years he was elected to his Chapter's Board of Directors, and was President from 1983-1989 and Governor of NECA from 1989-1998. Jack was also a founding father and member of the Board of Trustees for ELECTRI INTERNATIONAL. Jack had served on the Joint Labor Management Committee and the Negotiating Committee in 1981. He served on the Health & Welfare, Pension and Annuity Trust Funds from 1983 – 1992. On the national level, Jack invested 3 years as a member of the National Joint Apprenticeship & Training Committee and the NECA Manpower Development Committee. He was also the first contractor in the midwest to win the Electrical Industry Eagle Award. Jack was a founder of the Electrical Contracting Foundation, where he committed time, money and expertise to generate the power of the future. He was recognized on the list of the largest volume Electrical Contractors in the U.S for several years.
Jack and Carol enjoyed traveling all over the world with the Electrical Contracting Association members.
Jack was a charter member and member of the board of directors of the Peculiar Lions Club, a member of V.F.W. Post #3118 of Pleasant Hill and a member of the Masonic Lodge and the Ararat Shrine. He was also a member of the Community of Christ Church of Pleasant Hill.
Jack was preceded in death by his parents, John and Pearl Welborn, both in 1995; two brothers, Gail Welborn in 1977 and Gary Welborn in 2014 and one sister, Virginia Wallace in 2004. He is survived by his wife Carol (Decker) Welborn of the home; two daughters, Debbie Kolwyck (Danny) of McAlpin, FL., and Donna Farrar of Bucyrus, KS., one sister, Shirley Paul of Greenwood, MO; grandchildren, Shannon Quick (Jay) and Casey Heflin (Joy), all of Pleasant Hill, MO, Natasha Stock (Chris) of Overland Park, KS, Lane Farrar (Vanessa) of New York City, NY, Shaylynn Kolwyck of McAlpin, Fl, Seth Farrar of Lawrence KS, Kassidy and Josiah Kolwyck, both of McAlpin FL; great-grandchildren Austin, Calob, Bobbie Sue, Cameron, Cody, Taylor, Ciel, Clayton, Jackson and Miller; many nieces, nephews, other relatives and many, many friends.
Funeral Services for John W. "Jack" Welborn will be 11:00 a.m. Monday, Feb. 1, 2016 at the Wallace Funeral Home in Pleasant Hill, MO with Evangelist Don Carlile officiating. Casket Bearers will be Lane Farrar, Seth Farrar, Casey Heflin, Austin Heflin, Chris Stock and Kevin Connealy. Honorary Bearers are Danny Kolwyck, Jay Quick and Sonny Paul. Burial will be in the Pleasant Hill Cemetery with Military Honors provided by V.F.W. Honors Team, Post #3118 of Pleasant Hill. The family will receive friends from 4 – 7:00 p.m. Sunday, January 31, 2016 at the funeral home where a Masonic Service will be held at 7:00 p.m. The family suggests contributions to the Pleasant Hill Education Foundation/Welborn Family Scholarship.