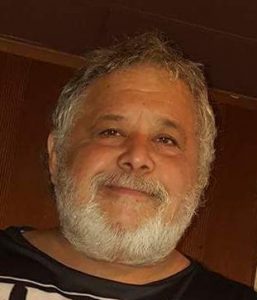 John Albert Wallace was born August 13, 1964 in Kansas City, Missouri and departed this life, unexpectedly, on February 14, 2018 at his home in Cleveland, Missouri.
He was the son of John Lowell and Laskarita (Makedou) Wallace.
John spent his younger years in the Cleveland, Missouri area where he attended Midway High School.
On July 23, 1989, John was united in marriage with Dianna Lenn Attebury in Grandview, Missouri and to this union four children were born. John and Dianna made their home in Belton for several years before moving back to Cleveland, Missouri.
John was a loving and devoted son, husband, father, grandfather and brother. He was a great, hardworking man who, for many years, worked in the Landscaping business. By example he instilled an incredible work ethic in his children.
John was particularly fond of horror movies, especially the "Hell Raiser" franchise and his favorite band was "Kiss". He was also an avid fan of  "The Walking Dead" series.
John was preceded in death by his father, John Lowell Wallace on November 15, 1993.
He is survived by his loving wife, Dianna Wallace of the home; his mother, Laskarita Wallace of Cleveland, Missouri; three sons, Johnathan Calvin Lee Wallace and wife Shayla of Cleveland, Missouri, Matthew Peter Wallace and wife Ann, and Tyler Lowell Wallace all of Belton, Missouri; one daughter, Laskarita Dawn Wallace and fiancé Martin Keeton of Independence, Missouri; one brother Mark Lowell Wallace and Valerie Moore of Martin City, Missouri; one sister, Elizabeth Anna Brethour of Kansas City, Missouri; five grandchildren, Mason Ray and Dominic Albert Clyde Keeton, Ashlyn Dawnn Wallace, Audrey Nicole Wallace and Erin Jayla Marie Wallace; one furry grandchild, Beethoven, other relatives and many friends.
The family of John Albert Wallace will receive friends from 10:00 a.m. until 12:00 noon Monday, February 19, 2018, at the Wallace Funeral Home in Pleasant Hill, Missouri. Graveside Service and Interment will be held at 2:00 p.m. Monday, February 19, 2018 at the Glenwild Cemetery, Cleveland, Missouri with Pastor Charlie Paine, officiating. Casket Bearers will be J. C. Wallace, Matthew Wallace, Tyler Wallace, Martin Keeton, Mark Wallace and Aaron Attebury.