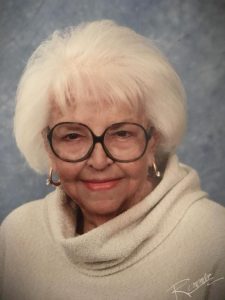 Virginia Joan Gillam Manda, 94, of Pleasant Hill, MO died Saturday, January 20, 2018 after an evening at home, surrounded by her four children.
Joan was born in Maryville, MO on October 19, 1923, to Amelia Catherine Palmer and Forrest Trueblood Gillam.  Even as a youth, she was very active in her church and school. She loved the experience of camp at Cheley in Estes Park, Colorado.  After graduating as a Spoofhound from Maryville High School, she attended Wells College in Aurora, New York (where she met Ed Manda), and graduated from the University of Missouri-Columbia with a degree in Journalism in 1945. She was a member of the Kappa Kappa Gamma sorority, and elected Savitar Queen at Mizzou.
Joan was married to Edward Arnold Manda, Jr. of West Orange, NJ on September 6, 1947 in Maryville, MO, in a beautiful ceremony surrounded by lots of orchids.  After a few years in New Jersey, they relocated to Pleasant Hill, MO in 1952 to raise their children.
Joan was very supportive in her children's activities; PTA, Cub Scouts, Boy Scouts, Girl Scouts, as well as school sports and activities.  She was an active member of the First Presbyterian Church, teaching Sunday School, singing in the choir, and serving as a Deacon.  She was also active in the Chapter DS, P.E.O. and volunteering for Meals on Wheels.  Her volunteering experiences expanded outside of Pleasant Hill to Powell Gardens, the Kansas City Junior League, the Toy and Miniature Museum, and the Kappa Kappa Gamma Alumni Association.  She had many groups of friends including the Kappa 'Bridge' Club and Lois' Ladies.
Joan took pride in having competed as co-pilot for several years in the All Women's Transcontinental Air Race, (known commonly as The Powder-Puff Derby) sponsored by the The Ninety-Nines, an international organization of women pilots. She and her pilot, Mary Ann Wiles Noah, won the race once, and had many very amusing adventures to tell!
She was well known for her quest for adventure, and traveled world-wide.  She was often photographed with her red umbrella in the most exotic of places.  Some of the more notable experiences were sailing on the Sea Cloud, traveling with a UMKC group to China, and the L.A. Museum Japanese Costume Tour to see Japanese National Treasures.  More recently she took great delight in listening to her grandchildren's stories of travel to faraway destinations.
Joan was preceded in death by her parents; husband, Ed Manda in 1976; and son-in-law, Jim Danbury.  She leaves children Amelia 'Mia' Danbury, Edward A. 'Chip' Manda lll (Kathy), Forrest G. 'Gil' Manda (Kathie), and Mary Melissa 'Missy' Manda (Ted). She enjoyed keeping up with her 11 grandchildren via Facebook and Instagram – Jed (Aimee) Danbury, Dane Danbury, Mandy (Jorge) Preciado, Jake (Megan) Manda, Matt (Elise) Manda, Will (Susan) Manda, Jay (Whitney) Manda, Sarah (John) Halcomb, Frank (Kirsten) Manda, Meredith Manda and Michael Manda.  And she loved using FaceTime so that she could see her 15 great-grandchildren – James Danbury; Charlie and Logan Preciado; Kasen Manda; Gary, Fritz, Luke, Hank and Walt Manda; Etta Kate, Matilda, Margaret, and Trudy Manda; and George and Kate Halcomb.
The family suggests donations to the University of Missouri-Columbia (Joan Gillam Manda Memorial Fund), 302 Reynolds Alumni Center, Columbia, MO 65211; or Kappa Kappa Gamma Foundation for the Theta Chapter House Renovation. Checks should be made payable to the Kappa Kappa Gamma Foundation and mailed to 6640 Riverside Drive, Suite 200, Dublin, OH 43017-9535. Or www.kappa.org/idonate/ThetaHouse. In all cases please indicate that your gift is in memory of Joan Manda.
Memorial services will be at 11:00 am, Saturday, February 3, 2018, at the First Presbyterian Church of Pleasant Hill, MO.