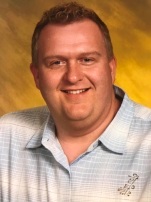 James Keith Swofford was born February 10, 1968 in Harrisonville, Missouri and departed this life, unexpectedly, on April 19, 2019 at North Kansas City Hospital, North Kansas City, Missouri, at the age of 51 years, 2 months and 9 days.
He was the son of Ronald Martin Swofford and Kathryn (Hooper) Swofford.
Although he tried his hand at baseball and football, Jim realized sports were not his thing. He was an accomplished pianist and excelled in vocal music. He found his home singing in the Pleasant Hill school choirs, with his favorite being the competitive show choir, Hillside Singers. He graduated from Pleasant Hill High School in 1986. Jim attended Central Missouri State University on a music scholarship. In 1992, he received his degree in Vocal Music Education. He touched the lives of countless students sharing his beautiful baritone voice and passion for choral music. His first teaching job was in Cole Camp. He moved to Huntsville and taught at Moberly High School. After leaving Moberly, Jim received a Master of Music Education degree from Northwest Missouri State University where he was a graduate assistant in the choral music department. His next job was at St. Joseph Central High School. In 2001, he began working in the North Kansas City School District where he was the choir director at Winnetonka High School, and Maple Park Middle School. Jim spent the last several years of his teaching career at Oakwood Manor Elementary School which he loved.
Jim loved the Lord and loved leading choirs and planning worship in many faith communities. He was a church music director at Laura Street Baptist Church in Maryville, Englewood Baptist Church, Gracemor Christian Church, and Northcross United Methodist Church, all in Kansas City.
Jim had a crazy sense of humor and his huge belly laugh was contagious. Building relationships and encouraging people was one of his greatest strengths. His social calendar was always full and he loved hanging out with his family and friends. His circle of friends was vast and to be a friend of Jim's meant you were a friend for life. He was a champion for his students, his friends, his family, and most of all, his son, James, whom he adored more than anything.
Jim was preceded in death by one brother, Robbie Swofford.
He is survived by his son, James Read Swofford of Kansas City, Missouri; his father, Ronald Martin Swofford of Fayetteville, Arkansas; his mother, Kathryn (Hooper) Fleener of Pleasant Hill, Missouri; two brothers, Chris Swofford and wife Kristine of Raymore, Missouri and Andrew Swofford of Missouri; five sisters, Rhonda Jackson and husband David, Angela Lees and husband Scott, all of Pleasant Hill, Missouri, Crystal Fleener of Harrisonville, Missouri, Debra Elkins and husband Ryan of Gravette, Arkansas, and Jennifer Swofford of Green Forest, Arkansas; step-brothers, step-sisters, aunts, uncles, cousins, nieces, nephews, other relatives and many, many friends.
As Jim wished, cremation has been accorded. A Celebration of Life Service will be held at 11:00 a.m. Friday, April 26, 2019 at the Wallace Funeral Home in Pleasant Hill, Missouri with Pastor Rob Carr officiating. Inurnment will be in the Pleasant Hill Cemetery. The family of James Keith Swofford will receive friends from 5:00 – 8:00 P.M. Thursday at the funeral home.
In lieu of flowers, memorial gifts can be made by cash or check to the NKC Schools Education Foundation (in memory of Jim Swofford in the memo line) and mailed to 2000 NE 46th Street, Kansas City, MO 64116.  To give online, visit www.nkcschoolsfoundation.org/support/online-donation.  After entering your information, indicate that you want to customize the donation in memory of Jim.