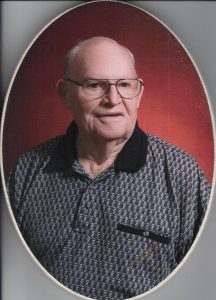 Jackie Lee "Jack" Quinn was born February 21, 1930 in Freeman, Missouri and departed this life on March 13, 2021 at Monterey Park Rehabilitation and Health Center in Independence, Missouri, surrounded by the love of his family, at the age of 91 years and 20 days.
He was the son of Ernest Lee and Ella Blanche (Hamilton) Quinn.
Jack spent his younger years in Pleasant Hill, Missouri, graduating from Pleasant Hill High School in 1948.
On July 3, 1950, Jack was united in marriage with Mildred "Hazel" Wright in Pleasant Hill, Missouri.
On May 3, 1951, Jack joined the United States Army. Jack and Hazel moved to Manitou, Colorado while Jack was stationed at Camp Carson, Colorado. Jack proudly served his country in the United States Army until May 2, 1953. After his honorable discharge from the Army, Jack and Hazel moved back to Pleasant Hill to make their home. They remained in Pleasant Hill until 1960 when they moved to Blue Springs, Missouri.
Jack worked for Adams Dairy, making cottage Cheese, for almost 20 years. Later he worked for Bruce Kelsey Vending Company, then Lee Vending Company repairing and servicing vending machines. Jack retired from Lee Vending Company in 1989.
When Jack's son Clint was young, Jack was the little league coach for both Clint's football and baseball teams. Jack enjoyed fishing, hunting, camping, mushroom hunting, and spending time at the lake where he and Hazel hosted many family cookouts. He also was an avid Kansas City Royals and Kansas City Chiefs fan. Jack was an accomplished bowler and bowled on several leagues over the years.
Jack was preceded in death by his wife, Mildred "Hazel" (Wright) Quinn on April 2, 2017; his parents, Ernest and Ella Blanche Quinn; five sister, Ernestine Haller, Harriet J. Wescott, Mary Ann Trull, Kay Crews and Carol Sue Quinn and one great granddaughter, Zoey Maddison Derr.
He is survived by one son, Larry "Clint" Quinn and wife Michelle Marie of Independence, Missouri; two daughters, Debra Lea Quinn of Pleasant Hill, Missouri and Linda Jo Aber and husband Merl Richard of Independence, Missouri; one brother Jimmy R. Quinn and wife Nancy of Lone Jack, Missouri; six grandchildren, Kasi Derr, Nicholas Quinn, Kristin Conner, Amy Aber, Bryan Aber and Jessica Rogers; eight great grandchildren, nieces, nephews, other relatives and many friends.
The family of Jackie Lee "Jack" Quinn will receive friends from 5:00 – 7:00 p.m. Sunday, March 21, 2021 at the Wallace Funeral Home in Pleasant Hill, Missouri. Graveside Funeral Service with Full Military Honors will be held at 1:00 p.m. Monday, March 22, 2021 at the Pleasant Hill Cemetery, Pleasant Hill, Missouri with Rev. Paula Isgrig, of Crossroads Hospice, officiating. Full Military Honors will be conducted by the United States Army and V.F.W. Post #3118 Honor Guard of Pleasant Hill, Missouri.