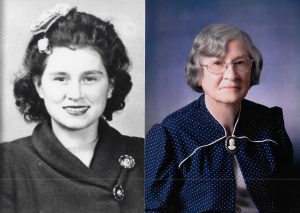 Geneva McClaskey, of Pleasant Hill, MO, went to be with the Lord, on Monday, July 1st, 2019.
She was born on December 22, 1923, in St. Charles, Arkansas to Gustavus and Bertha (Skaggs) Pogue. She was a member of the Lone Jack Baptist Church.
Geneva grew up in St. Charles, AR. She was one of 15 siblings. Her early life was spent helping on the farm, and around the house. She walked about 3 miles to school, sometime with help of a boat. Even though she grew up at a hard time during the Depression, she had fond memories of her childhood. At the young age of 14, he met her future husband and father of her children, Walter Marlin. He came to St. Charles to earn money at a "CCC" camp. They were married at a double wedding with her sister, Gladys and husband Fred. After the marriage, they moved to Walter's home area of Jamesport, MO. There, they raised 3 children – Gracie, "Red", and Brenda. Geneva was baptized by, and a member of the Jamesport Baptist Church. Her occupation, of which she highly excelled, was that of a home maker.
In 1967, Geneva married Leonard McClaskey, and they lived for a short time in Trenton, MO. They soon packed up their newly purchased 1972 Chevy truck, and moved to Stuttguart, AR. She enjoyed studying the Bible, fishing, gardening, cooking, and passing on her knowledge and love to her children, and grandchildren. Later in life, they moved to St. Charles, AR. There they lived in a house they built with their own hands. After Leonard's passing, Geneva lived with her family.
Geneva was preceded in death by her parents; her brothers –  Jess, Edward, Fred, James "Pete", Redes "John", Wilbert, Carl, Charles, Marvin, and sisters – Alva, Gladys, Elsie, Mae Belle, and Evelyn; her husband – Leonard McClaskey; her son – Walter "Red" Marlin; her grandson – Wayne Cook, and her great-great granddaughter – Janessa Baker.
She is survived by her two daughters, Gracie Cook of Pleasant Hill, MO, and Brenda Dunbar of Stuttgart, AR., 6 grandchildren, 15 great grandchildren, 7 great-great grandchildren, and extended family.
Memorial Services for Geneva McClaskey will be held at 12:00 Noon, Saturday, July 27, 2019 at the Lone Jack Baptist Church with Pastor Jerry Tharp, officiating.
In lieu of flowers, contributions can be made to Haiti Home of Hope Children's Orphanage, or Lone Jack Baptist Church.