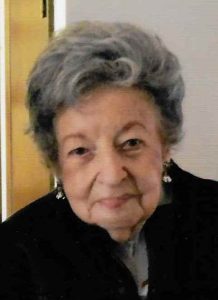 Franceline M. Parris was born August 11, 1918 in Lee's Summit, Missouri and went home, to live with Jesus, on Monday, October 30, 2017, at the age of 99 years, 2months and 19 days.
She was the daughter of John T. and Emma (Lacy) Clifford.
Franceline spent her early years in Lee's Summit, graduating from Lee's Summit High School in 1936.
On April 25, 1937, Franceline was united in marriage with Floyd Austin Parris in Lee's Summit. After their marriage they made their home in rural Pleasant Hill, where Franceline was a full time homemaker and worked alongside Floyd to establish the "Parris Farm". Franceline and Floyd were married for 56 years before his passing on June 22, 1993.
Franceline was a former member of the Lee's Summit Christian Church and the Pleasant Hill First Christian Church where she served as Deaconess and also the Sunday School teacher for the Homebuilders Sunday School Class. After moving to Harrisonville, Missouri, in 1993, she became a member of the First Christian Church of Harrisonville.
Franceline was a devoted and tireless volunteer for the Ladies Auxiliary of Cass Medical Center for many years. She also belonged to the Deborah Group, the Friendly Homemakers Club, Eight Friends Pitch Club and the Women's Circle Club. Franceline loved to entertain and often hosted luncheons and card games for the members of these different organizations. In her spare time she enjoyed gardening and reading.
In addition to her husband Floyd, Franceline was preceded in death by her parents, John T. and Emma Clifford; two sisters, Nellie Vada Smart and May Cooper Sivils and numerous nieces and nephews.
She is survived by several nieces, nephews, and many, many friends.
Funeral Service for Franceline M. Parris will be held at 2:00 p.m. Monday, November 6, 2017 at the Wallace Funeral Home in Pleasant Hill. Missouri, with Rev. Paul Porter officiating. Casket Bearers will be David Parris, Tony Livingston, Russell Richmond, Jake Richmond, Butch Beeman and Rich Smither. Burial will be in the Pleasant Hill Cemetery. Visitation will be held one hour prior to service time, from 1:00 – 2:00 p.m. at the funeral home.
Contributions are suggested to the American Heart Association and may be left at the funeral home.