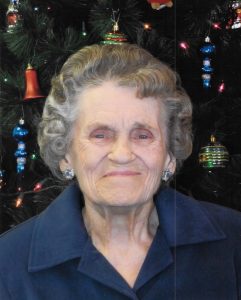 Erma (Joiner) Landrum was born August 22, 1924 in Ashland, Alabama and departed this life on June 18, 2019 at Beautiful Savior Home in Belton, Missouri, surrounded by the love of her family, at the age of 94 years, 9 months and 27 days.
She was the daughter of Spiegel Henry and Vernie Ozella (Arnold) Joiner.
Erma spent her younger years in Alabama where she graduated from high school. On April 8, 1944 she was united in marriage with French Landrum in Alabama and to this union 4 children were born.
Most of Erma's married life was spent in the Kansas City area. She was a devoted and loving wife, mother, grandmother and great grandmother. She enjoyed bowling, board games and working crossword and jigsaw puzzles.
Until her health started to fail, she was an active member of the Order of the Eastern Star, Elizabeth Chapter #142 of Belton, Missouri. She was also a member of the First Baptist Church of Grandview, Missouri.
She was preceded in death by her husband, French Landrum in 1988; her parents, Spiegel and Vernie Joiner; one brother, Cress Joiner and her twin sister, Erna Johns.
Erma is survived by two sons, Frank "Doug" Landrum and wife Donna of Raymore, Missouri, and Dan Landrum and wife Chris of Belton, Missouri; two daughters, Sandra Leon and husband Luis of Chicago, Illinois, and Judy Mariner and husband Mike of Kansas City North, Missouri; one brother, Doyle Joiner and wife Gail of Talladega, Alabama; five grandchildren, Jennifer Leon, Melissa Foster and husband Aaron, Justin "J.D." Landrum and Erin, Aubrey Wallgren and husband Brandon, and Ali Landrum; three great grandchildren, Brooklyn Foster, Cheyenne Wallgren and Piper Wallgren; she also was a dear aunt to many.
All services will be held on Friday, June 21, 2019 at the Wallace Funeral Home in Pleasant Hill Missouri, and are as follows; the family of Erma Landrum will receive friends from 10:00 a.m. until 11:30 a.m., followed by an Order of the Eastern Star service at 11:30 a.m. Funeral Service will begin at 12 Noon with Rev. Tim Casteel officiating. Casket Bearers will be J.D. Landrum, Aaron Foster, Mike Mariner, Luis Leon, Kevin Livingston and Brandon Wallgren. Interment will be in the Belton Cemetery, Belton, Missouri.
In Lieu of flowers, contributions "In Memory of Erma Landrum" may be made to Masonic Home of Missouri, and mailed directly to 6033 N. Masonic Drive. Ste. A,  Columbia, Missouri 65202 or left at the funeral home.