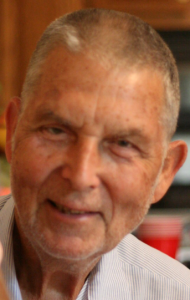 Elden Newland Arnold was born June 4, 1934 in Blodgett, Missouri and departed this life on
January 29, 2020 at Kansas City Hospice House in Kansas City, Missouri, surrounded by the
love of his family, at the age of 85 years, 7 months and 25 days.
He was the son of Hershel Glay and Mary Marie (Arnold) Arnold.
Elden spent his younger years in Scott and Oregon Counties in Missouri, graduating from
Thayer, Missouri High School in 1953. After graduation, Elden moved to the Kansas City area
for employment opportunities.
Elden proudly served his country in the United States Army from February of 1957 to
February of 1959. While stationed in Channelview, Texas, Elden met Sandra Kay Nesbitt, and
on September 12, 1959 they were united in marriage in Galena Park, Texas. Elden and Sandra
lived in Texas until 1964 when they moved back to the Kansas City area, in 1993 they moved
to Pleasant Hill, Missouri to make their home.
Elden, along with his brother Curtis, owned and operated Arnold's Lawn and Garden, Inc.
Elden liked to garden and grow flowers, he also was a remarkable beekeeper, producing
some of the best honey in the area. When his health permitted, Elden also enjoyed hunting
and fishing. The most important thing in Elden's life, however, was his family. He was a loving
and devoted son, husband, father, grandfather and brother. Elden was a true and loyal friend
to many.
Elden was preceded in death by his parents, Hershel and Mary Arnold.
He is survived by his wife, Sandra Kay Arnold of the home; two daughters, Tammy Marie Karn
and husband Shawn of Waukee, Iowa, and Pamela Kay Weinreich of Kansas City, Missouri;
one brother, Curtis Dwight Arnold and wife Carol of Pleasant Hill, Missouri; four
grandchildren, Cameron Karn, Megan Karn, Zachary Weinreich and Amanda Weinreich, other
relatives and many friends.
The family of Elden Newland Arnold will receive friends from 12 Noon until 1:00 p.m.
Monday, February 3, 2020 at the Wallace Funeral Home in Pleasant Hill, Missouri. A
Celebration of Life Service will immediately follow at 1:00 p.m. with Rev. Kent Deubner
officiating. Casket Bearers will be Andy Fisher, Cameron Karn, Tom Cason, Zachary Weinreich,
Dan Evans and Tom Pospisil. Interment will be in the Pleasant Hill Cemetery.