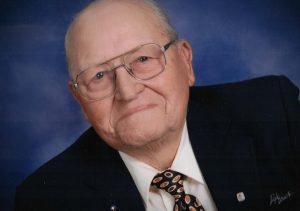 Edward "Bud" Alexander departed this life on February 13, 2019 at the age of 99. Ed was born on June 1, 1919 to William Hobart Alexander and Florence Marie (Czeschin) Alexander on the Jerry Hon farm northeast of Pleasant Hill in an area that is now Route VV. He graduated from Pleasant Hill High School in 1937. Ed spent all but three years of his life in Pleasant Hill. He married Lois Aliene Berry on September 29, 1939 in Odessa, MO. They were married for over 57 years and had one son, Ellis Alexander.
Ed was active in the local farming community. He and Aliene farmed several acres northwest of town for 54 years. Ed was the first president of Central Co-Op and a board member for several years. He served on the Pleasant Hill school board for twelve years, six as secretary. Ed was active in the Pleasant Hill United Methodist Church most of his life and was a Sunday school teacher for several years as well as serving on several different committees and boards. He was a certified lay speaker in the United Methodist Church for 26 years, and a member of the Gideons International for many years.
Ed was preceded in death by his parents; his wife, Aliene; one brother, Clyde of Raytown, MO. and two sisters, Oleda Holder of Cole Camp, MO., and Verda Mueller of Raytown, MO.
He is survived by his son, Ellis Alexander and wife Jean of Pleasant Hill; two grandsons, Brian Alexander and Daryl Alexander and wife Dena, all of Pleasant Hill; two great grandchildren, Tyler Alexander and wife Emilee of Belton, MO., and Mikaella Woodall and husband Logan of Greenwood, MO, other relatives and many friends.
The family of Edward E. "Bud" Alexander will receive friends from 1:00 – 2:00 Saturday, February 16, 2019, at the Wallace Funeral Home in Pleasant Hill. Funeral Service will immediately follow at 2:00 p.m., at the funeral home, with Rev. David Owsley officiating. Casket Bearers will be Brian Alexander, Daryl Alexander, Tyler Alexander, Sonny Czeschin, Allen Osborn, Mikaella Woodall and Logan Woodall. Burial will be in the Pleasant Hill Cemetery.
The family suggests contributions to Pleasant Hill United Methodist Church Building Fund or the American Cancer Society and may be left at the funeral home.