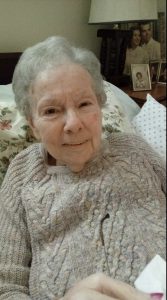 Dorothy Katharina Frances (Kraus) Baker, of Pleasant Hill, Missouri, entered into eternal life on June 24, 2020. She was 81 years old. 
Dorothy was born on January 28, 1939 in Chicago, Illinois and lived at the Pleasant Hill Health and Rehabilitation Center in Pleasant Hill, Missouri.  She was the daughter of Frank and Viola Kraus. 
Dorothy met John Roger Baker on a blind date in 1955. After dating for two years, they were married on October 19, 1957. They had six children: Linda, Kenny (deceased), Rick, Deb, Teresa, Susan; five grandchildren and several great-grandchildren. In 2017, they renewed their wedding vows on their 60th anniversary. 
Dorothy was baptized in 1960 and was a faithful member of the Reorganized Church of Jesus Christ of Latter Day Saints, serving for over 50 years as church organist at many locations. 
Dorothy was preceded in death by her parents, Frank and Viola Kraus, her brother Frank O. Kraus, her son Kenny, and her beloved husband, John. She is survived by one son, Rick Baker and wife Kellie of Leeton, Missouri; four daughters, Linda Ilgenfritz of Kingsville, Missouri; Deb Bradley and husband Gary of Sarasota, Florida; Teresa Rathbun and husband Thad of Zachary, Louisiana; and Susan Baker of Pinellas Park, Florida; five grandchildren, Danny Ilgenfritz, Justin Baker, Dana Browder, Taylor Burford and Jessica Law; three great-grandchildren, Abbey and Madilyn Browder and Emmaleigh Ilgenfritz. 
Cremation has been accorded and the family will have a private memorial.