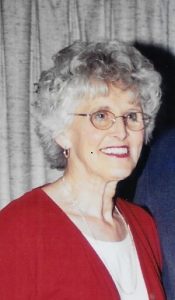 Dixie Lee (Andes) Allen was born August 30, 1936 in Independence, Missouri and departed this life on October 13, 2020 at her home in Pleasant Hill, Missouri, surrounded by the love of her family, at the age of 84 years, 1 month and 13 days.
She was the daughter of Chester Cleo and Ada Belle (Clark) Andes.
Dixie spent her younger years in Independence, Missouri and attended William Chrisman High School. At fifteen, Dixie was working as a carhop at A & W Root Beer Stand in Independence, when a young man named Larry Lee Allen, pulled up in a red convertible. Dixie took notice of the car and the nice-looking young man driving and the rest is history. Dixie and Larry Lee Allen were married on December 13, 1952 in Harrison, Arkansas, and to this union seven children were born.
After their marriage, Dixie and Larry lived in Sugar Creek, Missouri for 3½ years before moving to Independence where they lived until 1977 when they built their home and moved to Pleasant Hill, Missouri.
Shortly after their marriage Dixie and Larry started building and accumulating rental properties, which Dixie not only managed, but served in the capacity of painter, cleaner and maintenance person, all while raising their seven children.
Dixie was an active member of the Pleasant Hill Community of Christ Church, serving as Sunday School teacher, Priesthood member, and served in the Pastorate. She also was a team leader for Weight Watchers where she conducted meetings and served as a role model for the members, motivating and inspiring them to achieve their goals.
Dixie was preceded in death by her husband, Larry Lee Allen; her parents, Chester Cleo and Ada Belle Andes; two sisters, Deloris Hamilton and Charlene Roscher, and one daughter-in-law, Sharon (Brenner) Allen.
She is survived by her children, Larry Lee Allen, Jr. of Alabama, Cynthia Postnikoff Johnson, Ross Richard Allen, Carolyn Sue (Teri) Comer and Gregory Patrick Allen all of Missouri, Todd Raymond Allen of Kansas and Bradley Thomas Allen of Colorado; one sister, Geraldine Choate of Missouri; 19 grandchildren, 32 great-grandchildren, other relatives and many, many friends.
Cremation has been accorded. The family of Dixie Lee Allen will host a Memorial Service at a later date.
"In Memory of Dixie Lee Allen", contributions are requested to Outreach International, 129 W. Lexington, Independence, Missouri 64050 or St. Jude Hospital, P.O. Box 50, Memphis, TN 38101-9929.
Cremation arrangements entrusted to Wallace Funeral Home.