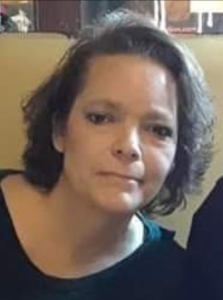 Dawn Marie (Cloud) Blevins was born August 30, 1973 in Branson, Missouri and departed this life on February 27, 2020 at her home in Pleasant Hill, surrounded by the love of her family and friends, at the age of 46 years, 5 months and 28 days.
She was the daughter of Donald Lee and Christie Ann (Fries) Cloud.
Dawn was a 1991 graduate of South East Lauderdale High School in Meridian, Mississippi.
In 2011, Dawn moved to Pleasant Hill to make her home.
Dawn's life revolved around her love for family and friends. She was truly an amazing mother, who was completely devoted to her three daughters, her greatest joy and happiness in life was being their "Mom". Dawn's life became even richer and fuller when she became "Memaw" to her three grandchildren.
Dawn loved anything Disney, especially Mickey Mouse. She loved scrapbooking, and shopping.
Dawn was preceded in death by her father, Donald Lee Cloud, and one sister, Wendy Blue.
She is survived by her mother, Christie Mitchell and husband Ray of Pleasant Hill, Missouri; three daughters, Makayla Blevins and Madison Blevins of the home, and Kristi Newton of Richmond, Indiana; one brother, Todd Dannaldson of Lee's Summit, Missouri; one sister, Joey Doering and husband Nathan of Oak Grove, Missouri; three grandchildren, Sophia Campbell, Hunter Newton and Gage Newton; her fur baby, Molly, other relatives and many friends.
Funeral Services for Dawn Marie (Cloud) Blevins will be held 2 p.m. Friday, March 6, 2020 at the Wallace Funeral Home in Pleasant Hill. Burial will be in the Pleasant Hill Cemetery. The family will receive friends on Thursday, March 5, 2020 from 6:00 – 8:00 p.m. at the funeral home.
The family suggests contributions to Hope Lodge (American Cancer Society Hope Lodge Program), or Dillon International (non-profit Hague-accredited adoption agency) please note "In Memory of Dawn Blevins" on any contributions to either organization. Contributions may be made online or sent to the funeral home.