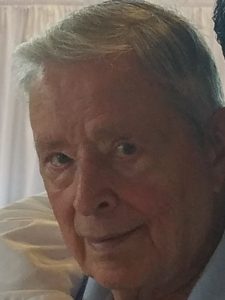 Charles Roland Meeks was born December 15, 1933 in Indianola, Iowa and departed this life on April 11, 2019, at his home in Pleasant Hill, Missouri, surrounded by the love of his family, at the age of 85 years, 3 months and 27 days.
He was the son of Edwin "Earl" and Audrey (Nyswonger) Meeks.
Charles was born into a family that didn't have a lot of material things, but his parents worked hard to provide for their family. Charles' father, Earl Meeks worked for the railroad and would be gone for days at a time, he also farmed. Charles' mother, Audrey, and the children kept the farm going when Charles' father was away. When Charles was 17 his mother passed away. It then became Charles' responsibility to keep the farm going when his Dad was away, and to see that his younger siblings were prepared for and attended school every day. While doing all this, Charles still graduated Valedictorian of the 1951 graduating class of Indianola High School.
Charles worked several jobs after graduation and saved up enough money to buy his first motorcycle, and so began his love and passion for motorcycles. In 1954, while riding his "bike" he was hit head-on by a car. Charles survived the accident, but, was hospitalized with a badly broken leg which took almost a year to heal. On April 1, 1955, Charles was drafted in to the United States Army and proudly served his country as the base photographer at Ft. Benning, Georgia. After his honorable discharge from the Army in 1958, Charles returned to the Des Moines, Iowa area, where he worked for Bridgestone Tires, and was a member of the Des Moines Fire Department.
On November 16, 2001, Charles was united in marriage with LuAnne Lynn McClung in Independence, Missouri. After their marriage, they made their home in Des Moines area.
Charles never lost his passion for riding motorcycles and made several trips throughout the United States on his "bike". He dearly loved to travel and was always excited about visiting new places and meeting new people.
Charles was a member of a square dance club and a Honda Motorcycle club, both in Des Moines. He was also a member of the Community of Christ Church in Des Moines.
In April of 2017, with his health declining, Charles and LuAnne moved to Pleasant Hill, Missouri to be closer to family.
Charles was preceded in death by his parents, Earl and Audrey Meeks; one brother, Paul Meeks, and one granddaughter, Tori.
He is survived by his wife, LuAnne Lynn Meeks of the home; three sons, Michael Meeks, and Mark Meeks and fiancé Faith all of Des Moines, Iowa, and Jeffrey Meeks and wife Stephanie of Raytown, Missouri; four daughters, Pamela Twohey and husband Steve of Collin, Iowa, Audrey Meeks of Des Moines, Iowa, Michelle Montuoro and husband Dominic of Urbandale, Iowa, an Kimberly Hutchinson and husband Paul of Bondurant, Iowa; two step-daughters, Lisa Muskgrove and Emilee Kile and husband Les all of Des Moines, Iowa; two brothers, David Meeks and wife Virginia of Sun City, Arizona and Dennis Meeks of Peoria, Arizona; two sisters, Martha Wilson and husband Gene on Camdenton, Missouri, and Lynn Bailey and husband Paul of Pleasantville, Iowa; 28 grandchildren, 39 great grandchildren, other relatives and many friends.
Graveside Service and Inurnment will be held at 1:00 p.m. Saturday, April 27, 2019 at the IOOF Cemetery in Indianola, Iowa with Elder Gene Wilson officiating. Full Military Honors will be provided by the United States Army and Highland Park American Legion Post #374 Honor Team of De Moines, Iowa. A Celebration of Life will be held immediately following the graveside service at the Community of Christ Church, 1609 W. Euclid Avenue, Indianola, Iowa. In Memory of Charles Roland Meeks, contributions are suggested to Phoenix Hospice, 14330 E. 42nd Street South, Independence, Missouri 64055.