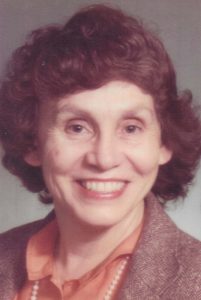 Audrey Jean (Groom) Kessler was born February 7, 1929 in Smithton Township, Illinois and departed this life on January 8, 2018 at her home in Pleasant Hill, Missouri, surrounded by her loving family, at the age of 88 years, 11 months and 1 day.
She was the daughter of James William and Carmen Ella (Schmisseur) Groom.
Audrey spent her younger years in Illinois, graduating from Freeburg Illinois High School in 1946. After graduation, she attended Deaconess Hospital Nursing School for two years.
On June 30, 1950, Audrey was united in marriage with Richard Phillip Kessler in Smithton, Illinois, and to this union three children, Richard Dean, Laura Marie and Sally Sue were born. The Kessler family continued to live in Illinois until 1965 when the family moved to Florissant, Missouri. While living in Florissant, Audrey served as Cub Scout and 4-H Leader. In 1972 the Kessler family moved to Raytown, Missouri where Audrey attended the First Baptist Church of Raytown. Over her years at First Baptist she served as a Sunday school teacher for the Nursery and the 5 & 6 Year old class.  She also worked for 15 years with the severely disabled class at the church and, eventually, led the Live Long and Love It Class.
In 2001, Audrey and Richard moved to Pleasant Hill to make their home. After their move to Pleasant Hill, Audrey and Richard became active in the Lee's Summit Bible Church where they have attended for the past 12 years.
Audrey Kessler lived a Godly life. Her family is comforted knowing that Audrey, after struggling with health issues, is now at Home in Heaven with Jesus.
The family knows that Audrey's wish would be for all to put their faith and trust in Christ and believe in Jesus so that one day we could be in Heaven praising Jesus together.
Audrey was preceded in death by her parents, James and Carmen Groom and two brothers, James Calvin Groom and Daniel James Groom.
She is survived by her husband, Richard Phillip Kessler of the home; one son, Richard Dean Kessler and wife Nancy of Ft. Worth, Texas; two daughters, Laura Marie (Kessler) Langston of Goddard, Kansas, and Sally Sue (Kessler) Secchio and husband Troy of Lee's Summit, Missouri; five grandchildren, Emily Beth Kessler, Erin Rachel Kessler, Karl Eric Wolf, Christian Troy Secchio and Rachel Faith Secchio. Three great-grandchildren, Christian Wolf, Collen Wolf and Madyson Wolf, other relatives and many, many friends.
Funeral Service for Audrey Jean (Groom) Kessler will be held at 11:00 a.m. Saturday, January 13, 2018 at the Lee's Summit Bible Church (1200 NE Colbern Rd. Lee's Summit, Missouri 64086), with Pastor Jim King officiating. Casket Bearers will be Troy Secchio, Christian Secchio, Karl Wolf, Rusty Mann, John Woodside and Darrel Ohrenberg. The family will receive friends from 10:00 – 11:00 a.m. (one hour prior to service) at the church. Interment will follow at 2:00 p.m. on Saturday at the Pleasant Hill Cemetery, Pleasant Hill, Missouri.