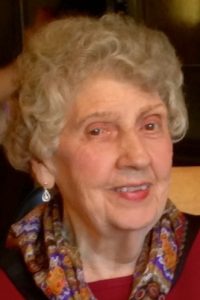 Ann (Snow) Slaughter was born February 6, 1929 in Lone Jack, Missouri and departed this life on January 7, 2018 at her granddaughter, Trina's home, in Lee's Summit, Missouri, surrounded by the love of her family.
She was the daughter of Fred E. and Ida Byrd (Shields) Snow.
Ann spent her younger years in Lone Jack and graduated from Lone Jack High School in 1947.
On September 1, 1948, Ann was united in marriage with Wesley Frank Slaughter in Harrisonville, Missouri. After their marriage they made their home in rural Lee's Summit, Missouri and Ann became a full time homemaker.
Ann was a loving and devoted wife and mother, and as the grandchildren, great-grandchildren and great-great grandchildren came along, the love and devotion grew to embrace all of them. Her world truly revolved around her family. Ann was an accomplished musician, and her piano playing skills and fun loving personality added laughter and enjoyment to many family and friend gatherings.
Ann attended the Open Range Fellowship Church.
Ann was preceded in death by her husband, Frank Slaughter, Sr. on January 6, 2014; her parents, Fred E. and Ida Snow; one daughter, Mary Longaker on January 28, 2017; one grandson, Matt Prewitt on July 19, 1992; two brothers and one sister.
She is survived by one son, Frank Slaughter, Jr. and wife Brenda of Lee's Summit, Missouri; one daughter, Patty Prewitt of Vandalia, Missouri; Fifteen grandchildren and numerous great and great-great grandchildren.
A Celebration of Life service will be held at 6:30 p.m. Thursday, January 18, 2018 at the Wallace Funeral Home in Pleasant Hill, Missouri with Pastor Frank Slaughter, Jr. officiating. The family will receive friends from 5:30 – 6:30 service time at the funeral home.
In Memory of Ann Slaughter contributions may be made to Open Range Fellowship, please note "Missions" on the memo line.