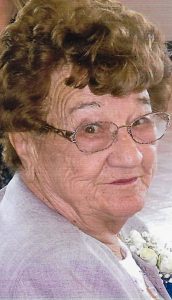 Lorna (Ernst) Ulmer was born July 8, 1929 in Roscoe, South Dakota and departed this life on January 4, 2018, surrounded by the love of family, at her daughter's home in Pleasant Hill, Missouri at the age of 88 years, 5 months and 27 days.
She was the daughter of Robert and Ida (Schick) Ernst.
Lorna lived in South Dakota most of her life. Her younger years were spent in Roscoe, South Dakota where she attended school. On September 30, 1948, Lorna was united in marriage with Floyd Julius Ulmer in Roscoe. After their marriage they moved to their farm near Floyd's hometown of Hosmer, South Dakota and Lorna became a hardworking 'farmer's wife".
Lorna was a devoted and loving wife and mother. Her entire life centered around her family and the farm. Through example, she instilled in her children love, integrity, morals and an abundant work ethic. She enjoyed sewing and crafts. Lorna raised a large garden and filled a huge pantry every year with food she grew and canned. She had a natural ability to heal, not only sick farm animals, but ailing birds and wildlife she came across. Lorna inherited many animals from neighboring farmers who would bring her newborn and sick animals and ask her if she wanted them, and she never turned them down.
Lorna's husband, Floyd J. Ulmer, passed away on September 27, 1991. After his death she continued to live in Hosmer until about four years ago when she moved to Missouri to be closer to her children and grandchildren.
In addition to her husband, Lorna was preceded in death by her son, Terry James Ulmer; her parents, Robert and Ida Ernst; three brothers Roman, Roger and Douglas Ernst and two sisters, Doris Kukrall and Vella Zacher.
She is survived by two daughters, Sandy Anderson and husband Rick of Pleasant Hill, Missouri, and Shelly Miller of Lee's Summit, Missouri; one daughter-in-law, Carol Ulmer of Sioux Falls, South Dakota; five grandchildren, Marlin Stoebner, Melissa Terry, Kristi Wanner, Shannon Ulmer and Reece Ulmer; six great-grandchildren and one great-great grandchild.
Funeral Services for Lorna Ulmer will be held  at 7:00 p.m. Tuesday, January 9, 2018 at the Wallace Funeral Home in Pleasant Hill, Missouri with Pastor Matt Harris, officiating. Interment will be in Holy Trinity Catholic Cemetery near Hosmer, South Dakota.
The family suggests contributions, In Memory of Lorna Ulmer, to American Cancer Society.